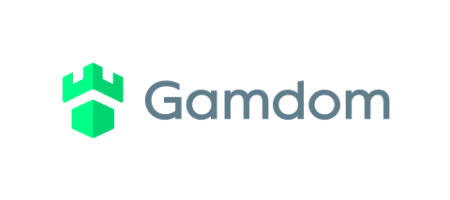 | | |
| --- | --- |
| Minimum Deposit | $10 |
| Minimum Withdrawal | $10 |
| Bonus | Up to 100% |
| Wagering Requirement | 30x-40x |
In this Gamdom Casino review, I delve into a comprehensive exploration of Gamdom's features, services, and player experience.
My examination includes a detailed overview of the casino's offerings, ranging from its game selection and payment methods to its promotions.
The focus will be on emphasizing the casino's strengths and potential drawbacks, looking at key facets like game diversity, available payment methods, promotional offerings, and the overall player experience.
The objective of my Gamdom review is to present a well-rounded viewpoint, offering you the insights necessary to make an educated choice regarding Gamdom.
Gamdom Casino Quick Overview
| | |
| --- | --- |
| Website URL: | https://gamdom.com/ |
| Founded: | 2016 |
| License: | Curacao |
| Crypto Payments: | Bitcoin, Ethereum, Litecoin, Tether (USDT) |
| Games: | Slots, Table Games, Live Casino Games, Sportsbook, Specialty Games |
| VIP Features: | No |
| Providers: | QuickSpin, NetENT, Red Tiger, Kalamba Games, Play'n go, Pragmatic Play, & more |
| Min Deposit: | $1 |
| Min Withdrawal: | Variable |
| Bonus & Offers: | Instant Rakeback, Weekly and Monthly Rakeback, Daily Surprise, Free Spins, Personalized Rewards |
| Bonus Amount: | Variable |
| Non-crypto Payments: | Bank Deposit (Skinpay, Revolut & more), Gift Cards |
| Sports Betting: | Yes |
Gamdom Casino First Impressions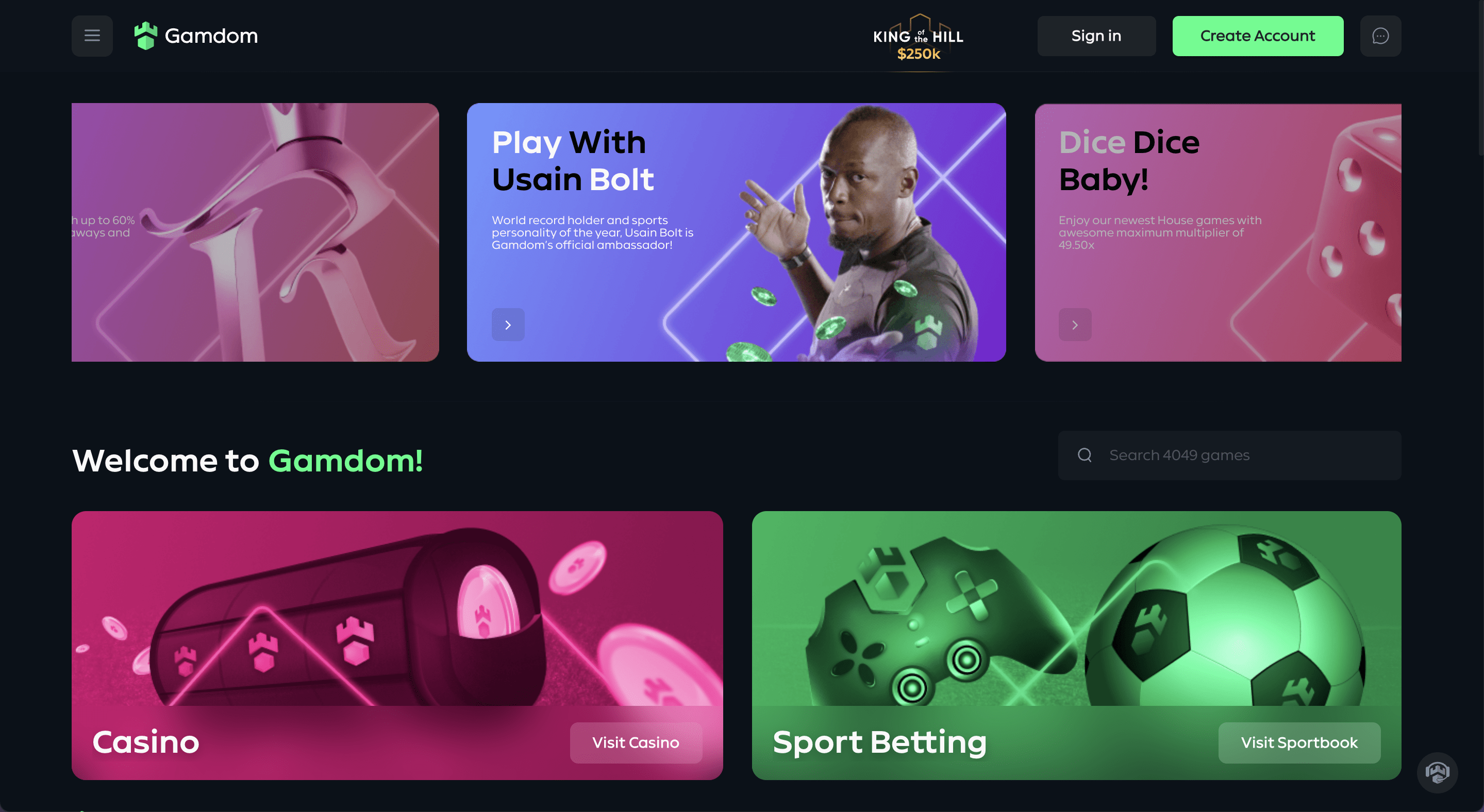 Upon arriving at Gamdom Casino, I was greeted with an interface that seamlessly melded modern aesthetics with intuitive user-friendliness.
The color palette, characterized by its darker backdrop contrasted by vibrant accents, left a sense of sophistication while retaining an element of excitement, setting the tone for a potentially engaging gaming venture.
The homepage serves as a gateway to the casino's offerings, showcasing a visually appealing array of game graphics and ongoing promotions.
Designed for effortless navigation, the layout incorporates clear menus that handily directed me to various sections.
This practical arrangement ensures that players, whether new or experienced, can quickly find their way around the site.
One aspect of Gamdom Casino that immediately stood out to me is its commitment to responsive design.
Regardless of the device used, whether a desktop computer, tablet, or smartphone, the website seamlessly adapts, ensuring a consistent experience for players across platforms.
An easily accessible live chat feature prominently positioned on the screen signifies the casino's dedication to customer support and engagement.
Not only does this facilitate quick access to assistance, but it also encourages a sense of community among players, fostering interactions and discussions.
Gamdom Casino's homepage highlights an extensive repertoire of games, ranging from classic favorites to innovative offerings, including live dealer games and diverse Gamdom slots.
In summation, the first impression that Gamdom Casino left on me is of a thoughtfully designed platform that combines visual appeal, functionality, and user convenience.
The harmonious blend of aesthetics and usability hints at a promising gaming experience that welcomes both novices and seasoned players alike.
Gamdom Casino Pros & Cons
To make an informed choice about your gaming destination, delve into my "Pros & Cons" of Gamdom Casino.
This balanced assessment highlights the strengths and potential drawbacks of the casino's offerings, allowing you to weigh the advantages and considerations before embarking on your gaming journey.
Pros
Pro #1 – Diverse Game Selection
Pro #2 – Almost No Wagering Requirements
Pro #3 – Excellent Sports/Esports betting
Pro #4 – Great UI
Cons
Con #1 – Absence of Traditional Bonuses
Con #2 – Small Number Of Accepted Cryptocurrencies
Is Gamdom Legit? License & Reputation

When it comes to gambling sites, addressing the legitimacy of an online casino is paramount if you're seeking a safe and secure gaming environment.
In the case of Gamdom Casino, its licensing by the Curacao authority contributes positively to its credibility.
The Curacao license indicates that the casino operates under a regulated framework, subject to compliance standards and regulatory oversight.
While the Curacao license provides a degree of assurance, you should still exercise due diligence in evaluating Gamdom.
Online forums, player reviews, and independent review sites can offer insights into the casino's history of customer service, payout reliability, and adherence to fair gaming practices.
In answering the question of "Is Gamdom legit?", while the short answer is definitely "yes", it's still essential to weigh both positive and negative feedback.
Instances of consistent positive player experiences can signify a trustworthy platform.
On the other hand, recurrent issues or unresolved disputes might raise concerns about its commitment to customer satisfaction.
Gamdom Casino Game Selection & Software Providers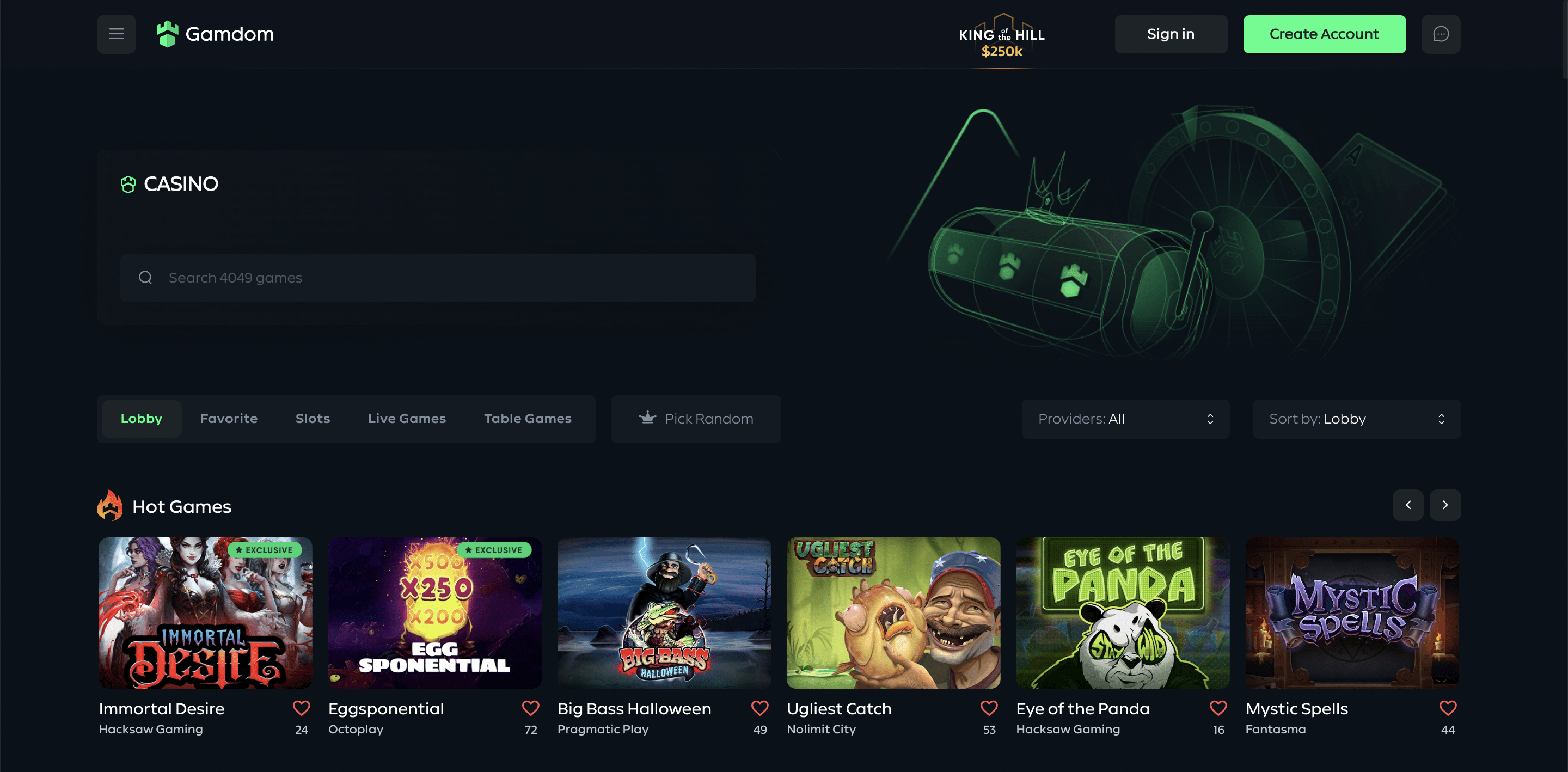 Gamdom Casino presents a captivating realm that extends well beyond its visual appeal.
With a rich selection of games, powered by reputable software providers, you are surely in for a diverse and immersive experience.
Spanning from classic Gamdom slots to dynamic live dealer games, the casino's offerings cater to a wide range of preferences, promising an engaging and inclusive gaming journey.
Gamdom Casino Slots
Gamdom Casino presents an array of video slots from prominent industry providers.
Easily navigable by using labels and a convenient drop-down menu, I was able to swiftly access different titles.
A unique feature allows you to 'like' games, ensuring easy retrieval for future sessions.
Some of the popular slot titles I encountered were "Money Train 2 Slot," "Iron Bank Slot," "Book of Dead Slot," and "Sweet Bonanza Slot."
Locating Gamdom slots is a straightforward process through upper left navigation and selecting 'Slots/Casino' followed by 'Slots' in the upper navigation.
Notably, games unavailable in certain regions appear in black and white, providing clear distinction.
Filtering options for slots were straightforward. I was able to sort by 'Most Popular,' 'Latest,' or 'Providers.'
Personalized lists of 'Your Favourites' can also be compiled. I also found the search bar handy for finding specific titles with ease.
Gamdom Provably Fair Games
Gamdom has a small collection of in-house games that are considered in the niche of "provably fair games".
The list features four distinct games: Crash, Roulette, Dice, and Hi-Lo. While there used to be a fifth game called Trade-Up, it has since been discontinued.
In the Crash game, a familiar concept for many players, a multiplier begins ascending, and the objective is to cash out before it crashes to secure the corresponding payout.
Delaying too long results in a payout of nothing.
The jackpot game involves depositing for tickets, with a random draw determining the winner.
Roulette offers a modified version of the classic game, providing a twist on traditional gameplay.
The Hi-Lo game is a straightforward betting experience where you predict if the next card will be higher or lower than the previous one.
While Trade Up was a unique offering available exclusively to Steam users, it allowed you to wager coins on skins featured on the Gamdom marketplace.
This provably fair gaming section enhances transparency and trust by allowing other players to verify each others' game outcomes, ensuring a fair and accountable gaming experience within the platform's diverse gaming portfolio.
Gamdom Casino Live Games
Gamdom Casino's live casino section takes a prominent spot within its overall gaming portfolio.
The majority of the live games are powered by Evolution Gaming, supplemented by a selection of Pragmatic Play and OneTouch Live games as well.
For gamblers like me who appreciate an authentic casino experience, the live dealer concept is pivotal here, enhancing authenticity by involving an actual dealer who engages you in real-time gameplay.
This interactive experience introduces a human element, with actual individuals managing games like roulette, cards, and dice.
The real-time streaming elevates the immersion factor, delivering a more genuine casino ambiance.
Gamdom Casino Sportsbook
Gamdom Casino is recognized not only for its casino offerings but also for its sports betting platform.
The sportsbook section was easily accessible from the website's sidebar, offering both general sports and e-sports betting options.
Featuring an array of around 25 betting options, the sportsbook boasts attractive odds, particularly in comparison to other eSports crypto betting sites that I've examined before.
The inclusion of both classic sports and e-sports ensures that you can find your preferred sporting events without limitation.
The allure of Gamdom's sportsbook also reflects in the platform's origins in CS:GO skin betting.
This background lends authenticity to its comprehensive betting options, connecting the platform's history with its current evolution as a broader gaming and betting hub.
Gamdom Casino Table Games
While Gamdom's primary focus lies in slots, I saw no shortage of other genres like table games.
The casino includes a separate 'Table Games' tab, albeit with a selection that's more modest compared to dedicated table game platforms.
Here I was able to find essential games such as roulette, blackjack, casino hold 'em, baccarat, and jackpot games.
Though not as extensive as some other casinos, Gamdom does provide a range of table game options to complement its main offerings.
While table games might not be the central highlight, their presence highlights Gamdom's intention to provide a well-rounded experience.
Gamdom Casino Bonus Overviews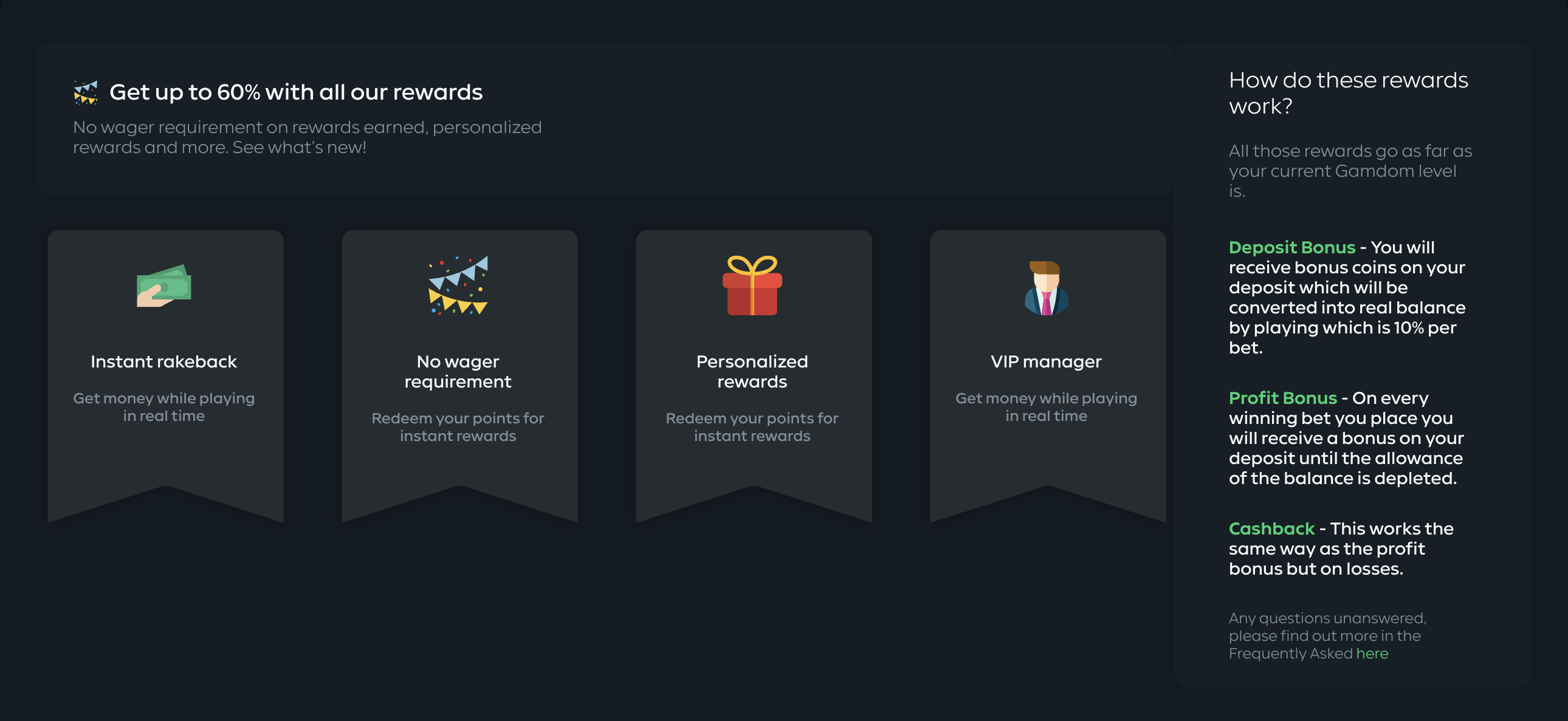 Gamdom Casino offers a distinctive approach to bonuses, diverging to a degree from the conventional incentives you'll encounter with other casinos.
Instead, it introduces an array of unique rewards.
While Gamdom doesn't feature common types like welcome bonuses the exact same way that other casinos do, I found the casino's creative free spins, rain rewards, and other promotions to be engaging enough in their own way.
Gamdom Casino Rain Rewards
As I mentioned above, Gamdom Casino introduces a unique system of rewards that are a bit different from typical casino bonuses.
Designed to engage gamblers in a distinctive way, Gamdom's rain rewards encompass a variety of tiers, each offering opportunities to claim free coins based on specific criteria.
Let's explore the intriguing rain rewards system:
Rain/Snow: This feature presents an opportunity to claim free coins without the need for any wagers.

To participate, simply solve the Google reCAPTCHA, a security measure against spambots, and click the 'claim' button when available.

The amount you receive is influenced by your Claim Level, determining the extent of your reward.

Tsunami/Volcano/Avalanche: A step beyond Rain/Snow, this reward involves a bit more involvement and offers a more substantial free amount.

To claim it, ensure you have an available free balance and have wagered at least $16.66 in the past five hours.

After tackling the Google reCAPTCHA, clicking 'claim' will earn you free funds based on your Claim Level, similarly to Rain/Snow.

Tornado/Blizzard: Gamdom's enhanced Rainbot, Tornado/Blizzard, promises larger payouts and follows a structure akin to Tsunami/Volcano/Avalanche.

To be eligible, maintain a free claimable balance and wager a minimum of $6.66 in the previous 12 hours before the reward appears in the chat room every one to four hours.
Gamdom Casino Rakeback Rewards
As we have seen, Gamdom deviates from the traditional and common ways of providing bonuses to their players, such as dollar amounts or percentage bonuses like 100% on your first deposit, etc.
Instead, you can enjoy Gamdom's Rakeback system.
The Rakeback system at Gamdom introduces three distinct bonuses – Instant Rakeback, Weekly Rakeback, and Monthly Rakeback – all functioning as cashback rewards.
These bonuses reimburse a percentage of your losses based on your betting activity within specific timeframes.
Instant Rakeback, the first tier, enables real-time returns of up to 15% of your betting amount.
This bonus initiates at 6% for lower tiers, without imposing any wagering requirements.
Uncommon in the industry, there's no cap on the amount you can receive back; the sole limitation is a percentage of your deposit's value in losses, which starts at 6% again.
Transitioning to the Weekly Rakeback, this bonus allows you to regain up to 5% of your weekly losses.
Even the lowest tier provides 1% returns. The funds you receive are unrestricted and can be withdrawn at your convenience.
The Monthly Rakeback mirrors the Weekly Rakeback's structure, extending the reimbursement to losses incurred throughout the entire month.
Gamdom Casino Daily Surprises
Gamdom Casino features a notable offering called the Daily Surprise bonus, akin to a deposit bonus.
This reward is credited to qualifying accounts, capped at 35% of the deposit for each tier.
Impressively, it doesn't carry any wagering requirements, granting you the freedom to utilize it at your discretion.
Unlike typical bonuses with 30x to 40x wagering demands, this bonus has no such constraints. Further enhancing its appeal, there are no cash-out limits, allowing for a very high profit potential.
However, the bonus's drawback lies in the ambiguity surrounding the company's rules, leaving players uncertain about its crediting and qualification criteria.
All registered members are eligible to unlock their Daily Surprise. To access this offer, a minimum wager of $15 in the past 24 hours is required.
Additionally, tailored special offers, rakeback, and a form of loyalty program are part of the package, contributing to an enriched experience.
Gamdom Casino Free Spins
Although free spins are definitely taking the back seat when it comes to bonuses with Gamdom, you can still earn a small number of free spins to boost up your account.

Weekly Free Spins: Through consistent real-money play from Sunday morning to Saturday night, you have a chance to earn weekly free spins, distributed every Sunday.

The quantity and value of these spins are determined by Gamdom's internal criteria, depending on your engagement and activity.

Streamer Free Spins: You can also obtain free spins through interaction with Gamdom's streamers on platforms like Twitch and Kick.

Active participation on their Discord or other social media channels, where prizes are frequently awarded, opens you doors to additional free spins.
Gamdom Casino Crypto Payments & Withdrawals

Gamdom Casino stands at the forefront of modern convenience with its embrace of cryptocurrency payments and withdrawals.
In this era of digital finance, Gamdom accommodates gamblers' preferences by providing deposit methods with a range of popular cryptocurrencies, particularly popular with Gamdom USA players.
Let's delve into the particulars of using Cryptocurrencies for playing with Gamdom.
Bitcoin
Gamdom Casino warmly welcomes the use of Bitcoin, a pioneer among cryptocurrencies.
As digital finance continues to reshape industries, you can easily engage with the casino using BTC.
Both deposits and withdrawals in BTC are facilitated, promising swift and secure transactions bolstered by the robustness of blockchain technology.
This integration aligns with the casino's commitment to modernity and convenience, catering to players from all Gamdom supported countries who seek decentralized and efficient payment methods.
Ethereum
Ethereum takes center stage in Gamdom's cryptocurrency options, granting you access to its multifaceted blockchain capabilities.
Deposits and withdrawals with Ethereum enable transactions backed by the security of smart contracts.
Ethereum's presence enriches the player experience, aligning with Gamdom's commitment to offering contemporary and secure payment options.
Litecoin
Gamdom Casino invites you to explore the world of cryptocurrency through Litecoin. Known for its rapid transaction confirmations, Litecoin offers a convenient option for both deposits and withdrawals.
As players opt for the accessibility and speed of Litecoin transactions, Gamdom Casino solidifies its commitment to providing a seamless and modern gaming experience.
Tether (USDT)
Gamdom Casino diversifies its crypto deposit methods with Tether (USDT), a stablecoin pegged to the US Dollar.
By allowing deposits and withdrawals in USDT, the casino allows a balance between blockchain technology and the stability of traditional currencies.
Gamdom Casino Non-Crypto Payments & Withdrawals
In my examination of the casino, I found numerous non-crypto payment methods as well.
For traditional banking, wire transfers stand as a reliable option for both deposits and withdrawals. Skinpay, on the other hand, offers a unique avenue by allowing you the use of in-game items to fund your account.
In addition, you can also purchase Gamdom gift cards with Visa, Mastercard, and PayPal. The gift cards are available in increments of 5, 10, 25, 50, 100, and 250.
How To Sign Up on Gamdom Casino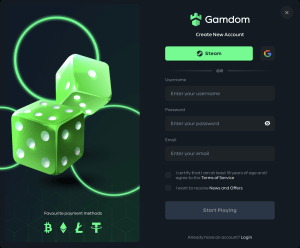 Signing up on Gamdom Casino was a straightforward process. To create an account:
Visit the Gamdom Website: Start by visiting the official Gamdom Casino website using your web browser.

Click on "Register": On the homepage, in the upper-right corner, click on the "Register" button to start the registration process.

Fill in Details: As the registration form appears, provide the essential information such as your email, username and password. Make sure to use a strong password to ensure security.

Verify Your Email: After entering your information, Gamdom will send you a verification link to your email. Access your inbox and click on the link to verify your account.

Complete Profile: Once your email is verified, log in to your newly created account and start enjoying playing!
Gamdom Casino Mobile Compatibility
After giving the website a thorough test, I definitely think that Gamdom Casino has made strides in ensuring that it remains accessible across a variety of devices, with particular attention to mobile compatibility.
The platform's responsive design definitely ensures a seamless shift from desktop to mobile as I was able to easily navigate an extensive range of games on both smartphones and tablets.
Accessible directly through mobile web browsers, Gamdom Casino eradicates the need for time-consuming downloads or installations.
The user-friendly interface maintains a cohesive and intuitive experience, mirroring the desktop version's ease of use.
Importantly, Gamdom Casino doesn't compromise on its game selection for mobile users.
An extensive range of options of slots, live dealer games, and card games, remained available to me for play on my mobile.
Gamdom Casino Review Final Remarks
Gamdom is a crypto casino established in 2016, and has since then advanced steadily among the most popular gambling sites.
Gamdom Casino offers diverse and modern gaming for today's players.
The casino's impressive array of games, spanning from slots to live dealer options, ensures captivating and varied options.
The incorporation of both cryptocurrencies and non-crypto payment methods showcases Gamdom's commitment to providing a smooth convenient experience.
However, as I mentioned before, it's worth noting that Gamdom Casino takes a unique approach by departing from traditional bonuses.
While this approach has its strengths, such as the introduction of distinctive promotions like free spins, rain rewards, and rakeback, it might not align with players accustomed to more conventional bonus structures.
To conclude my Gamdom review, this casino sets itself apart with an innovative approach to community building and involvement in the burgeoning field of esports.
The casino's commitment to fostering engagement and connections among players stands out, offering a distinct dimension to the gaming experience.
Its diverse game selection and flexible payment methods further underscore a dedication to modernity and player convenience.
While the absence of traditional bonuses may factor into some players' considerations, the casino's dedication to delivering a fresh and captivating experience is evident across its platform.
Gamdom Casino Frequently Asked Questions
For a comprehensive understanding of Gamdom Casino's offerings and operations, explore the frequently asked questions (FAQ) section.
Delve into this resource to find answers to common inquiries and get the clarity you need as you navigate your casino experience.
Is Gamdom available in the US?
No, Gamdom USA play is unavailable as of this writing, as the United States is in the list of restricted countries.
Is Gamdom legit?
Yes, Gamdom is a legitimate online casino. It is licensed and regulated, holding a valid gaming license that attests to its compliance with industry standards and regulations.
Yes, Gamdom is a legitimate online casino. It is licensed and regulated, holding a valid gaming license that attests to its compliance with industry standards and regulations.
What countries can you play Gamdom in?
The list of Gamdom supported countries is quite massive, as the casino maintains a broad international presence.
It welcomes players from various countries, including many regions in Europe, North America, Asia, and beyond.
For specific information, contact Gamdom's support team.
Are Gamdom games fair?
Yes, as you will find from any Gamdom review online, Gamdom Casino upholds a commitment to fairness by offering provably fair games.
This means that the outcomes of their games are generated using cryptographic algorithms that ensure transparency and randomness.
How can I play at Gamdom if I'm from the US?
As mentioned before, the US is among the Gamdom-restricted countries.
While some Gamdom USA players reported successfully playing via a VPN, I would not recommend it, as it's against Gamdom's terms of service, and may result in a ban of your account and forfeiture of your balance.